Q

is hurricane-proof
---
CASE STUDY BACKGROUND
---
Our clients install our Q software all over the country - including the southeast portion of the United States.
During the week of October 3rd, 2016 a hurricane named Matthew approached the south-most part of the United States from Haiti and drove a path of destruction up the eastern coast from Miami to Myrtle Beach, laying waste to internet connections, power lines, buildings, and of course - medical facilities.
Countless medical facilities lost power and/or internet connections during the storm. For those companies using Virtual Private Networks (VPNs) to exchange data with electronic health records, Monday the 10th was spent with their hair on fire - including having their network administrators re-establish VPNs, request HL7 messages be resent, and explain to patients why apps were not operating properly.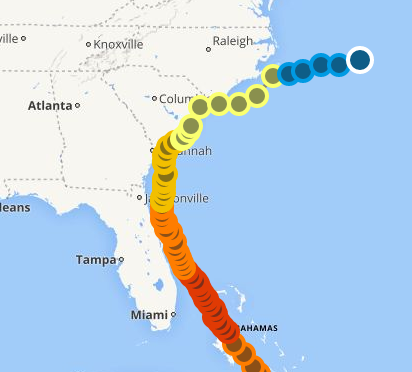 Path of Hurricane Matthew
Conversely, life was much more relaxing for employees at companies relying on Q to provide medical record integration.
The MI7 Network Operations Center was abuzz Friday the 7th through Sunday the 9th as our support team tracked facilities losing internet and power as the storm made its way north. As installations of Q went down, our network team communicated to affected clients letting them know that their facilities will return to normal without any human intervention.
---
MI7's HURRICANE-PROOF SOLUTION
---
Q provides message sequencing and guaranteed message delivery as part of its core featureset. Messages are routed and stored on the local network in an encrypted message queue and transmitted to the external company's data center in a First-In-First-Out (FIFO) configuration.
Not only does the software maintain a FIFO queue, it also guarantees delivery in that it must receive a successful response for each message sent out before it removes the message from the FIFO queue.
The messages for facilities affected by hurricane Matthew remained in a guaranteed-delivery system until such time as the internet allowed them to transmit successfully. And because the software uses no VPNs, it doesn't matter what type of internet connection comes back up - even temporary internet using a completely different IP addressing scheme and Internet Service Provider.
---
PROBLEMS SOLVED BEFORE THEY EVER BECAME PROBLEMS
---
Monday morning saw facilities coming back online and message queues getting smaller and smaller. The Q software stayed operational during hurricane Matthew and for those facilities that lost the computer running the Q software, it took 45 seconds to reinstall it on a new computer and they were back up and running in minutes as compared with hours and days had they been using VPNs.
Our clients spent Monday focusing on their businesses rather than trying to recover from the massive storm.
Partly thanks to Q.
---
WE CAN HELP YOU
---
MI7 can help your company effortlessly collect patient data with Q - our software that transforms every Electronic Health Record system into an API.